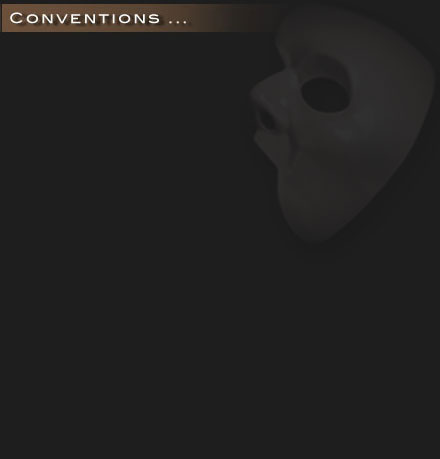 Celebration VI 2012

Since our own introduction tot he hobby, we've only attended a few of the many events that occur each year. In a decade or so, we've missed 90% of them. As said already, we plan on changing that in the future. But in the meantime, you're welcome to browse the events we have attended.

Along the way, you meet some terrific people. You will make friends to last a lifetime. An added bonus is getting to meet a variety of celebrities in your travels. We'll eventually be adding captions to the pictures you'll find in the galleries as time permits, but I'm sure that if you're a closet fan at very least, you'll recognize the many faces you'll come across while you browse. Some of the most notable events we've attended are the following :

From time to time, they actually let us out of the shop to go have a little fun and mix with people of like kind interests. We wish we got out more often, and we'll certainly be trying much harder to do so more often in the future.

Some call it 'Cosplay'. Which translates to 'Costume Play'. It's a broad term that we now believe was coined in regard to 'Anime' costume play, We could be wrong but nevertheless, we can't stand the term. For the record. When you're part of a quality organization such as The 501st, or TheDentedHelmet.com, the state of mind reaches far beyond costume play or masquerade.

Some people may see a bunch of nerds playing 'dress up', but the reality is, we're doctors, lawyers, cops, and a wide variety of other mixed professionals that come together to share a common interest and love of a hobby. Either way you want to look at it, it's a ton of great fun. And we're proud to be a part of it.

So come on in, and check out some of the interesting things you'll see at a convention. Hundreds of thousands of people travel far and wide to attend conventions around the globe. That many people can't be wrong. With any luck, you'll find the notion to check it out for yourself in person one day !