Fettpride.com welcomes you to our new site to see what we've been up to for the last several years. There have been many projects come and gone. But the time has finally come to chronicle what we do in more detail. Join us and take a look at our past, present and future !

Although officially established in 2002, for over a decade we have set the standard in any endeavor. From television set design, to custom props and replicas, we've done a little bit of it all through the years. Most always lurking "behind the scenes", we've decided to show off our "first love", the art and craft itself. There is nothing like bringing life to those imaginary things that bring us so much pleasure in film and television.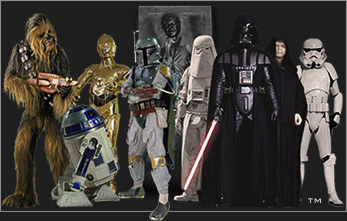 At Fettpride.com, our "close second" LOVE, is the love of themed costuming. From time to time we shift around and get a notion to do something new.

In the Portfolio section, you'll see some of our projects past and present. What you'll see there is an exhibit of our combined talents that will be added to as time progresses. So keep an eye on this section, you'll never know what you'll find. We have a serious case of OCD ! We don't believe that you can have a passion for such a hobby without it !

Our goal with any new project we take on, is attention to detail, and accuracy in execution. First and foremost. We know there are no merits for mediocre or second best. We strive for excellence. Feel free to browse the site and see that we take any project we involve ourselves in to the highest level. Our promise is to always show our customers we care, and take any endeavor seriously.

We always aspire to involve ourselves in every aspect of the cutting edge of molding and casting tech as it comes available. From computer aided design, to good old fashioned elbow grease, our prime directive is innovation.

We're constantly on the look out to find new ways to test our skills and breakthrough tech. We've found, that themed costuming presents those challenges we like to find ways to overcome to prepare us for the future !